Global Opportunities (GO) 2018/2019
As part of its commitment to developing the global perspective of students, St Andrew's offers a variety of GO programs that allow students to learn through exposure to new cultures and experiences. Through either a service or experiential learning program, students develop their cultural intelligence as well as knowledge, skills and values in a non-traditional academic setting. These programs aim to place the students in situations where they will need to demonstrate independence, leadership, critical thinking and service to others. Over the next month, five global programs involving 50 St Andrew's staff and students will be held in various locations around the world. I wish the students and staff all the best for their adventures and am looking forward to following their journey.
Here is an overview of the different programs happening this month and at the end a forecast for the 2019 trips which will be advertised early in Term 4.
Cambodia (Years 10 - 12)
St Andrew's has partnered with Raw Impact  for the past three years and it is great to see the progress that has been made. St Andrew's sends a team of staff and students to partner with Khmer locals in building housing for displaced families and sustainable vegetable gardens in UN Red Zones (poorest of the poor) to provide food and an income. The final few days of well-deserved rest will see the students visit the 12th Century Angkor Wat, which has been labelled 'the eighth wonder of the world' by many.
Thailand (Year 8) 
On the GO Thailand program, our students are introduced to travelling and living in a different culture. Visiting Temples, talking with monks, taking a Thai kick boxing class, visiting an elephant sanctuary, bartering in markets and Thai cooking classes are some of the experiences they will have. Combined with this is a few days of manual construction work and teaching of English in a local school. The students have a very busy but rewarding program.
Nepal (Year 11/12)
This trip sees the team take on the Everest Base Camp trek, which is one of the most popular treks in the world for good reason! The trek has been designed with plenty of time for the necessary acclimatization and takes the team past some of the prettiest Sherpa villages and to Namche bazaar which is the vibrant heart of Sherpa country. The mountain scenery is stunning with a range of the classic peaks visible along the trail including Everest, Lhotse, Nuptse, Ama Dablam, Kang Tega, Thamserku and Pumori. This trip develops student grit, leadership and teamwork as they seek to push themselves both physically and mentally and then enjoy the feeling of accomplishment as they reach Base Camp.
Barcelona Exchange (Spanish students from Year 10 - 12)
Currently we have eight students living and studying in Barcelona at our Partner School, Escoles Betlem. They will be there for a month and aim to not only further develop written and verbal Spanish skills but develop their cultural intelligence too.
Already, the students have experienced key landmarks in the city and some were even taken to a Champions League match to see Barcelona play! Next week they will be going on a school trip to the Pyrenees Mountains for a few days.
Our Spanish teacher, Ms Tania Serrat, will be joining the students for the September holiday break. Ms Serrat will also be doing some professional development and meeting with Barcelona University to discuss the opportunity for further study for our Spanish students.
Japan Exchange (Year 11)
Currently we have two students who are living and studying in Japan for one month. These students are at our Partner School, Kindai High and also Lexis English. This is an amazing opportunity to experience a different culture and develop the skills of independence and cross-cultural communication. Mrs Libby Derham, a member of our Art Faculty, is also currently on staff exchange at Kindai High for the September holiday break. Mrs Derham is looking forward to building relationships and sharing some of her Visual Arts expertise.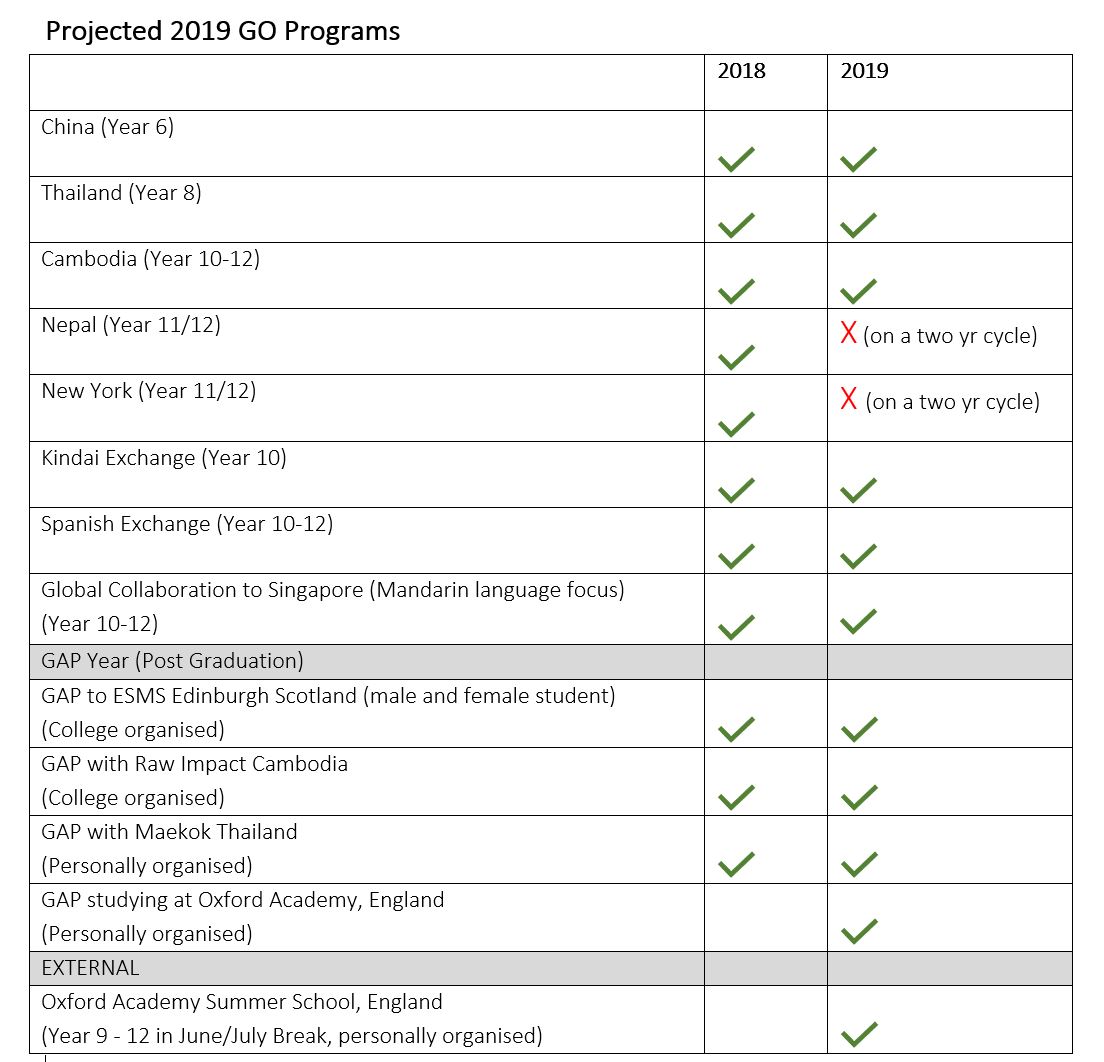 For questions and further information on Global Opportunities, please feel free to contact me at tbarrett1@saac.qld.edu.au
Tim Barrett
DIRECTOR, SAIL (Partnerships)